2700 S. La Cholla Blvd. | Tucson, AZ 85713 | Office: (520) 225-5700 | Fax: (520) 225-5701
Oyama ES Information
School Hours
Activities Social
Activities:
Registration for the 2021-2022 school year is now OPEN!
You may register on Parent Vue - if you need assistance
please contact the office 225-5700 or email Oyama@tusd1.org
Dress Code
What Makes Us Special
Oyama Dragons are STARS in Reading, Writing, Math and Science.
Oyama takes a "Balanced Literacy" approach by integrating reading, writing, social studies, math and science. This allows students to make more connections with subjects and gain broader and deeper knowledge.
Students examine and explore a subject through hands-on projects and inquiry-based instruction. Teachers encourage children to bounce ideas off each other and come up with their own conclusions.
Oyama takes dozens of fifth-graders to the Grand Canyon for three days each year. An active PTO helps with trips and other projects.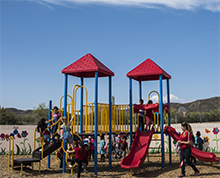 Oyama's Incredible Staff